Best Picture
Will win: Boyhood. I think this movie received more hype because of the way in which it was filmed (a few scenes a year over 12 years, which is, admittedly revolutionary). But without that, it's basically a very good movie with good performances by good actors and a good director. I didn't have to use the word "great" once.
Should win: Birdman. Birdman was my favorite movie this year. It had such an amazing script and was shot in a truly unique way; the whole movie was shot as if to appear it was one long take. It was in no way your typical, boring drama, which I might argue Boyhood was (despite its unique way of filming). Birdman is just a genuinely thought-provoking and oftentimes hilarious, if ambiguous, movie.
Could win: Birdman. The rest of the movies are really good movies, but not genuine best picture possibilities. In fact, most of the other best picture nominees were out-shined by the performances in them, while being simply good movies on their own (The Imitation Game, Selma, Whiplash, The Theory of Everything)
Should have been nominated: Interstellar. I don't know what the hell people didn't like about this film. They throw around buzzwords like "overly-ambitious", "confusing" and "McConaghey's Lincoln commercials" (only one of which I agree with). This gorgeous movie had ambition in all the right places and absolutely succeeded for me as much as Close Encounters and 2001: A Space Odysssey. If your knock against this movie is that it was confusing, okay, fine. But that's on you. Not on the film. Interstellar explained everything it needed to. It was a complex film, yes. But if you walked in expecting a big, stupid summer action movie, you didn't really know Christopher Nolan.
Best actor
Will win:
Eddie Redmayne-
The Theory of Everything.
This was one of those very few times where I watched a movie and forgot I was watching a performance and not the actual person. Eddie Redmayne was just transcendental as Professor Stephen Hawking. The difference between actor and subject was imperceptible, which is exactly the goal of a great performance.
Should win: Eddie Redmayne- The Theory of Everything. See above.
Could win: Michael Keaton- Birdman. Ugh. I want Michael Keaton to win so badly. If you grew up in the '90s, you love Keaton or you're an awful person. He was our Batman, everyone's favorite "bio-exorcist", Beetlejuice, and should have won 4 separate Oscars for all of his characters in Multiplicity. He's had a lifetime of less-than-serious roles, that were no less deserving of acclaim. In his metaphysical, yet funnily autobiographical role he would really deserve this award if not for the somewhat newcomer, yet no less deserving, Mr. Redmayne.
Should have been nominated: I honestly didn't see Selma, so I can't argue for David Oyelowo. I believe he was great (I genuinely like the actor) but I won't argue for him based on his race, as many detractors would (there NEEDS to be more minorities nominated!). I believe the best actors should be nominated. Period. Despite race, despite previous award history (as many people think Meryl Streep shouldn't be nominated because she's been nominated for no fewer than 349 Academy Awards). Everyone in this category absolutely deserved to be nominated, I don't think you should nominate someone just because they're non-white. So, with that, I'm not picking someone who should have been nominated because who should have taken a backseat?
Best Actress
Will win: Julianne Moore- Still Alice. Julianne Moore is one of my favorite actresses and finally deserves a legit award. Still Alice is her turn.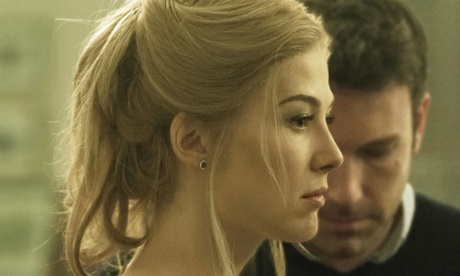 Should win: Rosamund Pike- Gone Girl. I'll be more than happy if Julianne Moore wins. That said, I thought Rosamund Pike was absolutely phenomenal. She just was this character. I felt that Fincher's last wonderful female actress/character (Rooney Mara as Lisbeth Salander) absolutely deserved the Oscar in the 84th Oscars and I was positively shocked that no one really talked about her performance in serious contention with Meryl Streep's. And I feel like it's the exact same thing this year with Ms. Pike's performance; why the hell aren't people talking about her?? I honestly think her character will end up going down as one the best (spoiler alert?) villains of all time.
Could win: Reese Witherspoon- Wild. She basically did what Emile Hirsch did for the similarly titled Into the Wild, which, by the way, is seriously impressive. Anytime you can carry a movie by yourself, without a complex plot, and leave the viewer captivated, I'm impressed. Reese boasts an equally impressive and extensive repertoire to Julianne Moore that Rosamund Pike can't quite compete with (though that doesn't deter my opinion of her performance).
Should have been nominated: Amy Adams- Big Eyes. I'm not as high on Amy Adams as the Academy seems to be. She's been nominated four times. I think she's merely a good actress. Her performance in Big Eyes however was a strong one and deserved recognition.
Best Supporting Actor
Will win:
J.K
.
Simmons-
Whiplash.
Just shut up any and all so-called competitors. J.K. Simmons was unbelievable as the music teacher from hell. If you don't believe the "from hell" part of that last statement, you didn't see this film. J.K. made me feel like I was 6 years old being scolded by my 1st grade teacher again, which is an awful feeling. He was captivating and horrifying, which, for me, is unsettling and deserving mix.
Should win: J.K Simmons-Whiplash. Just stop.
Could win: Robert Duvall- The Judge. He won't and shouldn't win. J.K.'s performance was one of those rare, absolute lock performances. However, he's a legend in the industry and hasn't won in over 30 years. I guess he could win based on his lasting endurance in the industry, but was he better than J.K. Simmons? No way.
Should have been nominated: Andy Serkis- The Dawn of the Planet of the Apes. I think I've said this for every performance-capture film he's done since 2002 when Serkis played Gollum in earnest for the first time in The Two Towers. He should have been nominated. He has to act every bit as much, and in a good portion of his films, more than, the standard "supporting actor." His role in Dawn of the Planet of the Apes was exactly as good as every other performance-capture role he's done, which is to say, spectacular. I'm getting sick of putting him in my "should have been nominated" category. NOMINATE THIS MAN.
Best Supporting Actress
Will win: Patricia Arquette.- Boyhood. She had the big Golden Globes win which is a big boon for this category.
Should win: Laura Dern- Wild (see below). This was actually one of the hardest categories to pick. Keira Knightley was excellent in The Imitation Game, as always. Emma Stone had two of the best scenes in Birdman. And Meryl Streep had some of the better scenes in an ultimately disappointing movie. But Laura Dern had the best single performance.
Could win:
Laura Dern- Wild. If you don't know her as Ellie Sattler in Jurassic Park, I don't really know how you know her. But you're probably a more well versed viewer than I am. Despite Jurassic Park being one of the best movies ever made, Ellie was an underdeveloped character without any real depth. So, it was such a change to see her as a physically and mentally vulnerable character. While still overcoming her circumstances through positivity she becomes to most important influence on the the main character; which is what a "supporting" actress does, right?
Should have been nominated: Elizabeth Moss- The One I Love. No. I don't believe she should have been nominated over any actress in this strongly earned category. But I do want to raise awareness for the truly wonderful movie. If you like romance, or drama, or sci-fi or dramedy, or tragicomedy or just strange, unclassifiable, indescribable movies, watch The One I Love.
Best Animated Feature
Will win: Big Hero 6. Disney still has the best chance at winning an animated feature award at any time, and this was the most deserving film that was nominated.
Should win: Big Hero 6. This wasn't the best Disney movie in recent years (that crown belongs to Wreck-it Ralph) but it was the best nominated animated movie this year. I was very surprised How to Train Your Dragon 2 won the Globe because Big Hero 6 was such a touching movie. It was responsible for that old "it made me laugh, it made me cry" situation that the best animated movies accomplish.
Could win: How to Train Your Dragon 2. It has the Golden Globe under its belt but Big Hero 6 was the better movie. Neither were the best animated movie, however. That title belongs to:
Should have been nominated: The Book of Life. I don't understand the love behind The Lego Movie. I thought it was basically a plotless film with gorgeous animation and nostalgic situations, sets and characters. And maybe that's why people loved it so much. It didn't do it for me. What did, however, was the Book of Life. This movie was at least as stunning as the Lego Movie, but The Book of Life had an actual plot that had rich characters and blended in one of the most under-appreciated mythologies in the world. It was a bold film that took risks by not appealing to everyone and succeeded where the Lego Movie failed. It choose mythology and character development over cheap thrills and character recognition. Best animated movie of the year.
Best Director: Birdman- Alejandro Gonzalez Inaritu
Best Original Screenplay: The Grand Budapest Hotel- Wes Anderson
Best Adapted Screenplay: American Sniper- Jason Hall